On the 26-28.02.2018, the angling competition "Troć Iny 2018" took place, opening the Tournament of 4 Rivers (in the memory of Jan Meyer), co-organized by the association Friends of the Rivers Ina and Gowienica and the Green Federation "GAJA". The event was accompanied by a CATCH seminars devoted to sustainable coastal anglig tourism. The President of Friends of the Rivers Ina and Gowienica, Mr. Artur Furdyna, and the vice-mayor of the Goleniów commune, Henryk Zajko, made the official opening of the event. The event had over 100 participants.
During the CATCH seminar, the representative of the Green Federation "GAJA", Radosław Brzeziński, presented a presentation on "Sustainable coastal angling as a chance for development for the South-Baltic region". The presentation brought closer to competition participants, who are active anglers, objectives, activities and planned effects of the CATCH project.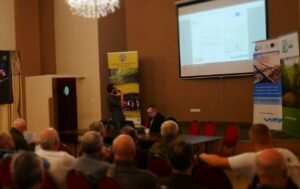 It is worth mentioning that one of the objectives of the CATCH project is to promot of recreational fishing by enhancing informing anglers about the possibilities of sustainable angling in specific regions, their surrounding environment, ecology, tourism infrastructure and fishing. At the same time, the project aims to increase the ecological awareness of anglers and people running local tourist activities, aimed at anglers and their families (hotels, guest houses, agritourism spots, guided nature trips, fishing trips), as well as people associated with the angling industry (rental of boats and equipment, sale of angling products and accessories).
CATCH's task is to develop and promote sustainable angling tourism among anglers and the local community, provide effective tools for the regional tourism industry and combine all of these elements with the help of an innovative IT platform.
During the Troć Iny competition there were two more presentations, which were accompanied by discussions related to the CATCH project:
"Chances for local development brought by healthy, well-managed rivers and coastal waters",
"Environmental, social and economic dimension of sustainable, coastal fishing tourism in the region of Western Pomerania – prospects, opportunities, threats".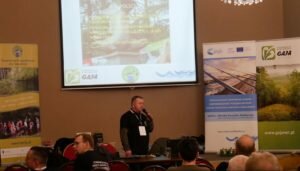 Participating in "Troć Iny" made it possible to establish interesting contacts with anglers and few representatives of the local tourism industry. The ideas of the CATCH project met with the understanding and approval of the event participants.
The competition ended with a great auction of fishing tackle.  The income obtained during the auction was transferred to suport the statutory activities of the association Friends of the rivers Ina and Gowienica, which are close to the CATCH project assumptions – river restitution, ecological education of young people, building the spawning grounds for trout and salmon, as well as combating of fish poaching.