During the Rybomania trade fairs held in Poznań, representatives of the CATCH project from the Green Federation "GAJA" and the Stepnica Tourist Organization met with Jakub Vágner, well known extreme angler specializing in fishing for giant fish around the world. Very pleasant chat was an opportunity to share information about the CATCH project. Jakub Vágner emphasized the importance of sustainable angling and expressed interest in the CATCH project activities. We are very happy with the contact we have made and we hope that we will be able to convert it into cooperation within the project.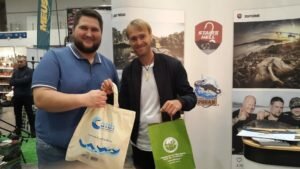 Jakub Vágner (on the right) receiving a package of information-promotional materials of the CATCH project, from Jakub Skorupski (Green Federation "GAJA")
The Rybomania fair is the largest angling trade fair in Europe – about 250 exhibitors took part in the fair, the exhibition area is over 20,000 square meters, and the number of visitors is around 30,000.