RYBOMANIA is the biggest angling fair in Poland and one of the biggest exhibitions of this branch in Europe. The event takes place in three cities, there are hundreds of exhibitors, the exposition occupies dozens of thousands square meters and is visited by more than 70 000 visitors every year. It is right here at RYBOMANIA where the latest products of world's greatest brands are presented.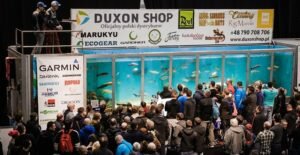 RYBOMANIA Fair is also used as an arena of special shows, including the most spectacular ones which take advantage of huge tanks full of fish, where baits are presented. The fair's intensive program of events participated by angling masters is like a magnet attracting visitors, whereas stories of the equipment, great fisheries and big fish integrate and inspire dozens of thousands of angling enthusiasts, no matter their level.
Green Federation GAJA is going to represent project CATCH during this special angling event in Poznan 9-11th February 2018.