The nationwide anglilng competition Reska Troć 2018 took place on 16-18 February in Mrzeżyno (West Pomeranian Voivodeship). The competition was organized by Friends of the River Rega, local angling and ecological association. It was also co-organized by the Green Federation GAJA, which promoted the CATCH project as part of the event. Reska Troć is the next edition of angling competition included in "Tournament of 4 Rivers" (in the memory of Jan Meyer).
This year the competition was attended by 164 participants, and the winner was Waldemar Kanarek from Trzebiatów, who caught over 75 cm sea trout.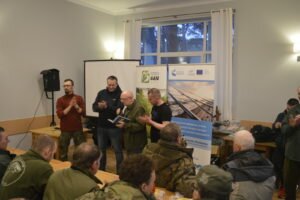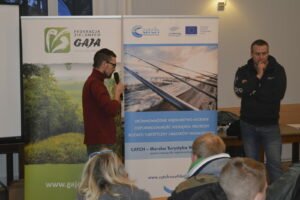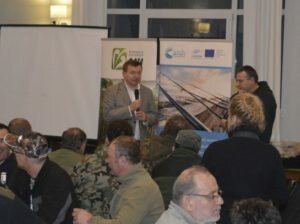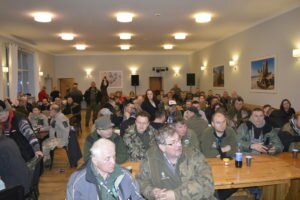 On Saturday, in the evening, a presentation about the CATCH project "Sustainable sea angling as an opportunity for development for the South-Baltic region" was delivered by Radosław Brzeziński, the representative of the Green Federation GAJA. The information about the project, sposnor and partners was given to the anglers. After the presentation of project assumptions, goals and planned results and small discussion, the voice took mr. Jarosław Rzepa the Vice Marshal of the Westpomeranian voivodship. At the end of the official part of the meeting participants joined famous auction of fishing items – gathered revenue has been dedicated to the statutory goals of the Friends of the River Rega (voluntary protection of river habitats and fish stock, river restoration, stocking, education of youth and promoting of sustainable angling).
On Sunday, before the official awarding and closing of the competition, Andrzej Laszuk, chairman of the Friends of the River Rega, has took a presentation about "Angling Tourism – Undiscovered Potential". The presentation and discussion took place within the framework of the association's cooperation with the GAJA Green Federation, undertaken in the CATCH project which is co-financed by the European Union among Interreg South Baltic programme.  The participants of the meeting received numerous project gadgets as well as educational materials promoting sustainable coastal fishing and the development of angling tourism in the south Baltic region.