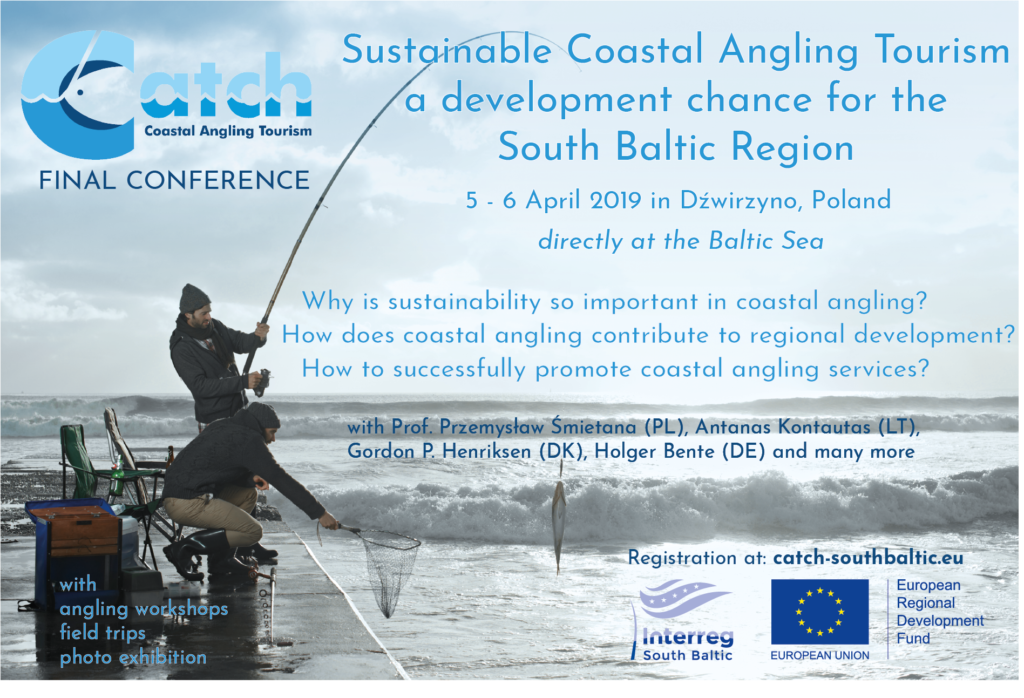 The CATCH Consortium and the Organizing Committee are pleased to invite you to the final conference of the Interreg project CATCH Coastal Angling Tourism – a development chance for the South Baltic Region, to be held in Dźwirzyno, Poland on Friday 5th and Saturday 6th April 2019.
Angling experts and partners from Denmark, Poland, Lithuania and Germany will present a rich program of current trends, offers, local initiatives and marketing opportunities for sustainable coastal angling in the South Baltic Region. Best practices and guidelines for communities to raise the potential of regional coastal angling tourism will be discussed.
With parallel practical workshops, a gallery of the winner photos of our photo competition and the opportunity for posters, the conference will also be a vivid platform for exchange and networking.
Please also visit our new multilingual platform at www.fishingsouthbaltic.eu – your website for the next fishing holiday! with information on best fishing spots, lodging alternatives, fishing guides, boat rental services and more.
For registration, agenda and more organizational information, please visit further sections.
---
REGISTRATION
To register for the conference, fill out the form below and return by email to anetak@gajanet.pl. Registration deadline is 1st of March 2019. The attendance is free of charge, but please note that places are limited and will be allocated on a first come first served basis.
Should you have any questions, please do not hesitate to contact Aneta Kozłowska – anetak@gajanet.pl, mob. +48 512 015 041.
Hotel and travel reservations should be made ONLY after receipt of written registration confirmation. If you have not received your confirmation within five working days, please contact us at anetak@gajanet.pl.
All cancellations must be in writing; replacements by colleagues are much welcome.
Please, note that all fields marked with an asterisk of the registration form are mandatory and that the name and affiliation you give here will be printed on your badge and the participants' list.
Click here to open the REGISTRATION FORM in editable PDF format
---
CONFERENCE PROGRAMME
Click here to open the CONFERENCE PROGRAMME
---
CALL FOR ABSTRACTS
We invite and encourage you to submit an abstract for poster presentations! Posters' topics should refer to the thematic area of the project CATCH Coastal Angling Tourism – a development chance for the South Baltic Region, in particular to:
recreational coastal fishing,
angling tourism in the South Baltic region and
sustainable use of fish stocks.
A board of 120 cm (width) x 90 cm (height) will be accepted for a poster. The A4 format copies added to each poster would be very welcome.
The abstract should include:
full title (limited to 150 characters including spaces, without any abbreviations, Calibri, 12 pts),
name, affiliation, address, email of the corresponding author,
name, affiliation, address of all co-authors,
minimum 3 and maximum 5 keywords,
abstract text should give a comprehensive summary of the oral/poster presentation and not exceed 300 words,
abstracts should be written in English (Calibri, 12 pts),
abstracts should not include subheadings or equations.
Poster abstract should be emailed with the registration form to jakub@gajanet.pl. The deadline for abstract submission is 1st of March 2019.O
---
ORGANIZING COMMITTEE
The conference Sustainable Coastal Angling Tourism – a Development Chance for the South Baltic Region is organized by the Green Federation "GAIA" in cooperation with the Faculty of Biology, University of Szczecin.
| | | |
| --- | --- | --- |
| Jakub Skorupski, PhD, Eng. | Green Federation "GAIA" | Committee Chairman |
| Aneta Kozłowska | Green Federation "GAIA" | Committee Member |
| Prof. Przemysław Śmietana, PhD, Eng. | Faculty of Biology, University of Szczecin | Committee Member |
| Marcin Budniak | Green Federation "GAIA" | Committee Member |
| Artur Furdyna | Stepnica Tourist Organization | Committee Member |

Should you have any questions, please do not hesitate to contact Aneta Kozłowska, anetak@gajanet.pl, mob. +48 512 015 041.
---
SOCIAL PROGRAMME AND FIELD TRIP
Conference Dinner
The Conference Dinner is being held on the evening of Friday 5 April, from 19:00. It features a delicious seated dinner with traditional Polish cuisine and is a fantastic way to spend your Friday evening and great opportunity to meet other participants.
The Conference Dinner will take place in the Hotel SENATOR restaurant. Come as you are. All participants are invited!
Guided half-day field trip
The first point in the trip program will be demonstration of activities of voluntary fishing guard on the Parsęta river. The guards will present and discuss the specifics of their work and specialized equipment to fight with poaching, like photo trap, thermal imaging camera and night-vision devices.
Another visited place will be the hydroelectric power plant on the river Parsęta in village of Rościno. A newly built fish pass with a scanner for monitoring fish migration will be demonstrated.
The number of places is limited, first come – first served rule applies. Lunch-box included.
---
VENUE AND LOCAL INFORMATION
Conference venue
All conference sessions (both plenary and poster presentations), photo-exhibition and interactive coffee breaks, will take place in the Senator Hotel (www.hotelsenator.pl). The conference venue is located at Wyzwolenia 35 St., the main street of Dźwirzyno.
The Senator Hotel lies barely 80 m away from the Baltic coastline. A good connection with Kołobrzeg and Szczecin allows to easy reach it by car, train and plane.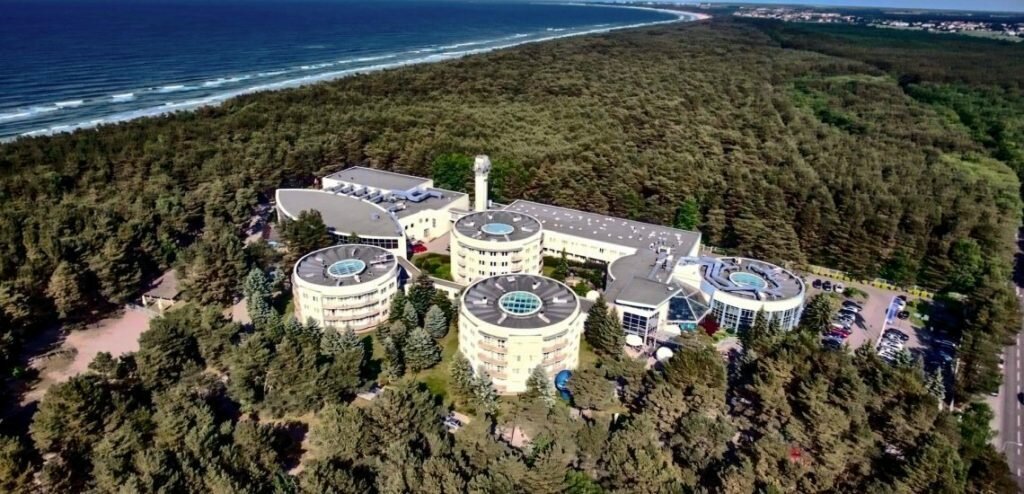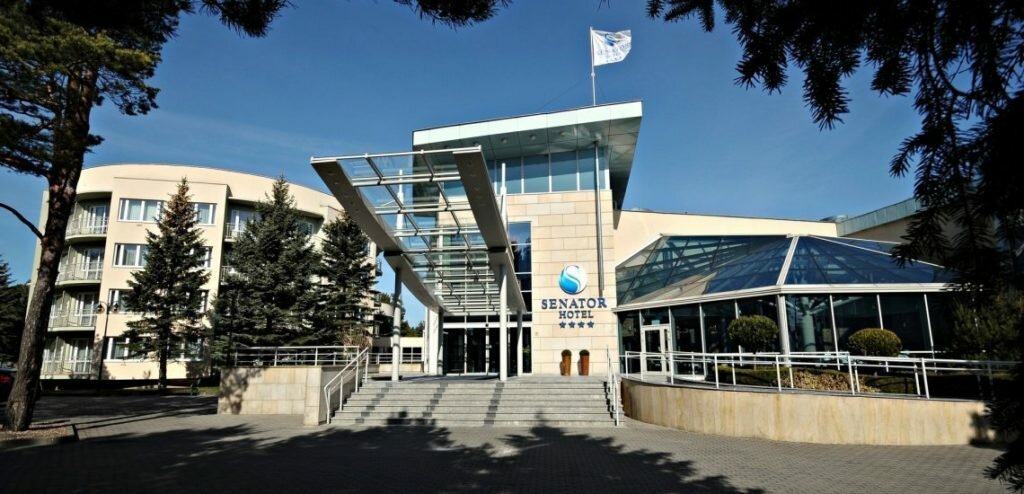 Local information
Dźwirzyno is a village in Kołobrzeg County, West Pomeranian Voivodeship, in north-western Poland. It lies approximately 12 kilometres west of Kołobrzeg and 98 km north-east of the regional capital Szczecin.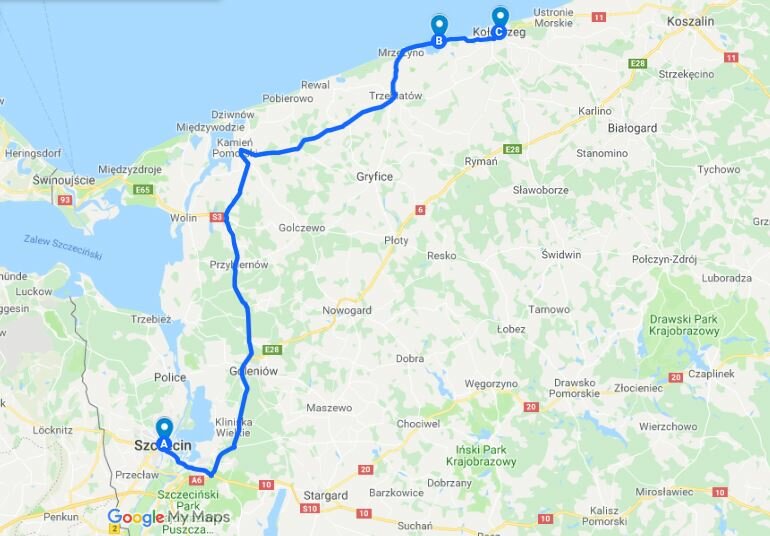 A – Szczecin, B – Dźwirzyno, C – Kołobrzeg
Dźwirzyno lies between the Bałtyk Sea and the Resko Przymorskie Lake. It is famous for one of the most beautiful beaches on the Coast and one of the cleanest bathing spots in Poland. Al lit makes Dźwirzyno an excellent holiday destination for those who love to relax on the beach, while at the same time offering abundant possibilities of other forms of recreation. Since the 1970s it has boasted the status of a spa town and now it is a modern and well-developed holiday destination with premium hotels and many attractions, which draws flocks of visitors dreaming of sun, white sand and fresh air.
Two ports on Lake Resko Przymorskie offer yachts, canoes and motorboats for rent as well as giving the opportunity to practise windsurfing. There are also good conditions to go angling since salmon, trout, sander, perch and eel are to found. Dźwirzyno's beautiful seashore is lined with a belt of dunes, and is one of the cleanest on the Polish coastline. Some of the beaches are also accessible for the disabled. Apart from water sports, there are many other options for active breaks – there are tennis courts, horse riding stables and cycling trails in and around Dźwirzyno. Outside the village are four main cycling trails of a total length of about 70 km. If you are looking for unusual attractions, why not try paramotoring as well? Besides this, Dźwirzyno is a health resort specialising in curing respiratory and cardiovascular system diseases.

Dźwirzyno belongs to the Western Pomeranian Voivodship, covering the north-eastern corner of Poland. This village lies on the Baltic Sea shore as well as that of Lake Resko Przymorskie, the latter linked with the open sea by a canal. What is interesting is that back in mediaeval times there was no connection between the lake and the sea until the 15th century when the land dividing it was broken by a storm on the sea.
For more practical information on visiting Poland visit www.poland.travel/en/plan-your-trip/about-poland orwww.lonelyplanet.com/poland.
Camera (live broadcast) – Dźwirzyno beach
Camera (live broadcast) – Dźwirzyno dunes
---
TRAVEL AND ACCOMMODATION
Travel and accommodation (if needed) arrangements and costs are the responsibility of the Conference participants.
Green Federation "GAIA" will not reimburse for changes in travel/accommodation expenditures regardless of the cause, including the cancellation of the Conference.
If you need accommodation for 4-5 April or 5-6 April please contact the HOTEL Senator (Joanna Obertaniec, joanna.obertaniec@hotelsenator.pl, +48 697 050 806), referring to the "CATCH Conference" password. Conference participants have a special price offer – the cost of a single room is PLN 216.00, while the price of a double room is PLN 118.80 per person.
Travel guide useful in planning your travel, accommodation and stay is available at the following links:
www.staypoland.com/about_dzwirzyno.htm
www.expedia.com.sg/Dzwirzyno.d6126981.Destination-Travel-Guides